GoWin! Software Tips & Tricks
GoWin! has great accuracy by default but is also capable of some pretty incredible things you might not even know.
Here are some simple tips and tricks you'll master in no time, that will help you squeeze the most out of this fantastic football prediction software and achieve even higher success rates. From us and our users!
A.
ANOTHER PERFECT MATCH THANKS TO GOWIN!
The most basic technique:

"BIG differences between the two teams, GOOD odds"
In the long term it has very good potential, thanks to the good hit rate and the odds which are higher than they should be.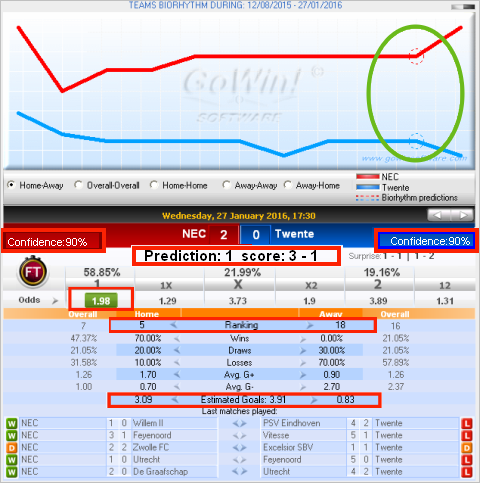 Press Prediction, right-click and order the matches by "1", "2", Confidence or Odds. Then check for the Signals:
Confidence
Prediction probabilities and odds around 2 or higher
Biorhythm
Home-Away rankings
Estimated goals
Performance and Best Choice
Statistics
GoWin!
It works great with single bets or small accumulators (1-3 matches each with odds around 2 or higher).
A great advice from Kimmo: the BEST signals!
Mark's Asian Handicap technique to get much higher odds in matches with a strong home favourite
Tip: Always look for high odds because this difference between them and reality is what finally builds up the long term profit. When they go high, our results go high!
Higher odds ensure a larger margin of profit. This is key to long term profit.
The odds do not necessarily follow the real power of the teams, they reflect the total amount bet on one or the other team. So we'll have a lot of underestimated and ineffective low odds but also a lot of overestimated and profitable high odds.
With average prices of 1.25 you need a minimum hit rate of 80% - which is quite close to maximum possible so the margin of profit will be very small. It is hard to go over 90% so, if you win, the best possible scenario would be only 10% profit.

For the above reasons, it is recommended that you never go below the 1.4 odds threshold. Also, below this level it is more likely that you will encounter underestimated values.

As a reference, for these levels of odds, you need these minimum hit rates:
1.4 => 72%
1.5 => 67%
1.6 => 63%
1.7 => 59%
1.8 => 56%
1.9 => 53%
2.0 => 50%
2.5 => 40%
3.0 => 33%
and so on...

Go HIGH!
A1.
Just like a PRO!
Three types of selection that will make the difference.
Improved results when knowledge takes the place of random decisions
The competitions have different patterns and different performance levels. Having the same high hit rate on all competitions and all types of prediction is really impossible. Not even the mighty GoWin! can do it. But, with this wonderful tool, almost any competition can be good or have good parts, with proper selection and with the right system.
Selection based on Performance

Select a league, set the desired time interval in the past and run Performance. Use Best Choice or Profit Zones. Then, just a look at the data in the main prediction table and in the Fast Statistics box is enough to find the best leagues. At this point, you can also fine tune the prediction engine and see what improvements can be obtained. In this way you can easily find out the best competitions and settings.

Selection based on Confidence

For the best teams, you can also take a look at the Confidence coefficient in the prediction table (for more details press F1 to open the help file). You can find teams with high confidence level as well as teams prone to surprise results.

Selection based on Statistics

Another way is to use the Statistics window where you have all the competitions and teams ordered by various important criteria. Look for competitions and teams that are the most likely to give you the desired results. E.g. if you use to bet on Over look for teams and leagues with more goals; if you are looking for some draws choose low scoring competitions and teams with a larger number of draw matches.
Combining the results of this simple study with the excellent accuracy of the predictions will surely make you a Pro punter, with definitely better results and significantly higher returns in both the short and long run.
Happy PROfits!
A2.
K.O. the bookie. Dodge & Right Hook Punch!
Turning a surprise event into a great opportunity.
What you need:

A game with a big favourite according to pre-match stats and prediction. Preferably the home team.
An early lucky goal of the underdog team.
Live stats clearly in favour of the better team.
It doesn't matter if you already bet or not on the favourites.

It's time to Dodge and Knock Out the bookie with a blistering Right Hook Punch!


What you have to do:

Place a bet on home win or home win and draw or on "home win will score". The odds will be much higher than the pre-match odds.
Keep your feet on the ground. It does not mean that you will win every time. But you get very good chances at much higher odds than the pre-match odds. Keep the stake at a fraction of your original stake, taking into account that you now get much higher odds. Increasing the stake to recover is never a good idea.
Explanation:

Many times when the big favourites concede an early goal they become more motivated while the odds go in the opposite direction creating a much better potential margin of profit.
Do not do this unconditionally, watch the live stats before, they can help you notice this motivation.
A similar technique for the goals market:

Delay your bet until the 20th minute or longer. If it's still 0-0 you will get better odds for Overs or scoring events. Again, the pre-match and live stats must suggest that the event is imminent.
B.
Finding matches in accordance with Confidence
A very good technique received from our friend and user from Greece, Dinos. This is the full email received from Dinos:
"Hello Kevin,

I hope you are doing well!
I would like to send you my method of finding matches in accordance with Confidence values.....

This way the "green" results are turned into "red" (i.e. winning results) and the Performance gets much higher!!!

I make an Excel file with all the matches for the next day and highlight the Confidence coefficients with red colour (if smaller than 49) and blue colour (if greater than 60).

If the both values are blue then it is very likely to have a safe bet. Just check the Performance of the league. The Success is very near!!!!

But you can also bet where one value is blue and the other is red…..
This way you can take advantage of the better odds available for surprise results.

For example:
When GoWin! predicts that X2 should be the most normal result but the Confidence for the Hosts is only 33 up to 40 (red) and 60 or more for the Guests, then a Home Win result is very likely to occur.....

Here are my rules in brief:
A. If the both values are blue then it most likely is a safe bet! Just check the Performance of the league. But if they both are over 62 then it will work very well in almost any league.

B. The low confidence value acts like a magnet that pulls the result towards the opposite direction!

If X2 and red/blue then 1 - my favourite rule, with quite high odds (3.00-3.40) for 1

* For more safety you can also use double chance bets, X2 or 1X
**As a general rule, the extreme values (too high or too low) should be ignored

C. Where there is a significantly stronger Host or Guest with a percentage to win over 65 or 70, then the low coefficient of the opponent has no effect.

In certain leagues 50, 55 and even 57 behave like low values (red).

I have to admit that I watch the results every day. I make these files for every single day and in the end of the day I try to make my own analysis based on GoWin! smart engine. As the database is updated twice a week, there is a good chance for someone who wants to bet on much more matches to make the Excel file for the next 3 or 4 days.......

I select 4, 5 or 6 matches every time I bet. If I want more safety, I limit my bets to trebles or maximum 4 or 5- fold accumulators. The selection can include matches with both high and low Confidence.

There are so many opportunities here waiting for us to discover them!!!

P.S.
You are doing the dirty work and I carry out very easy analysis.....

I tested the results in the past using Performance not only for a particular league and period of time, but for all leagues and for whole months (thousands of played matches).
I hope these notes will be helpful for any user. Keep up the hard work!!!

Greetings from Greece! "


And a small yet consistent follow-up from Dinos …
"Tromso-Bryne has just finished!!!!!
The odds:
1.35 - 5.00 - 7.10
Confidence:
71.43 - 28.57

Guess what......
Bryne is the winner
Excellent result!!!!!!!!
GoWin! did it again...."

This is how Dinos, based on his own observation, has chosen to use GoWin! and he is doing with great success. If you cannot use Excel then just right-click in the prediction table and order the predictions accordingly, by '1', 'X' or '2'.

Also, positive feedback from our user Rajgopal, who successfully applied Dinos' favourite rule ...

"GoWin's powerful system and Dinos' tactic worked yesterday!
Brazil Serie A, Vitoria vs. Fluminense.
Odds: 3.10, 3.40, 2.30.
%ages according to GoWin: 24.94, 40.49, 34.57.
Confidence: 30 and 60.
Tip: X2.
STRATEGY: X2 and red/blue: Bet on 1 (or 1X to be safe)
The odds for 1 were 3.10 and for 1X were 1.61.
Result: 3-1 for Vitoria!!

Cheers!
Rajgopal"

"Hello,
Another one of Dino's favorites!
Norway. Sunday 21st September.
Haugesund V Rosenborg.
24.27, 35.98, 39.76.
Confidence: 36 and 75.
TIP: X2.
STRATEGY: X2 and red/blue. Bet on 1.
Result: 2-1 to Haugesund!!

Cheers.
Rajgopal"

If you have developed your own technique to use GoWin!, share it with us to make it available to everyone who wants to be successful!

C.
Under/Over 2.5. The right way!
Very popular everywhere, nice and accurate with GoWin!
The Over/Under as well as any other goal market predictions are based on the correct score prediction. This opens a much more accurate approach.

You can conduct your own analysis or create a technique for automatic selection.

Simple or in-depth analysis, always fast via Techniques.
If you wish to create a technique, the main setting is "Change to Over..." or "Change to Under...". Base your technique on the predicted score and set the other parameters according to your ideas.

For Manual selection, first, find the best leagues. There are two ways:

There is no wonder that, the starting step should be using Best Choice! to find good leagues for these types of bet. For better ccontrast", it should be used separately for Under 2.5 and Over 2.5.
Also, the Statistics window is a place with many treasures inside. So just do not miss it. It will help you finding high scoring (good for Over) or low scoring (good for Under) teams and leagues.
Then Check the score prediction. Open the Biorhythm window and look at the more accurate unrounded estimated goals, at the surprise scores and goal stats as well as at the last few played matches.


Tips:
Always start your goal market analysis with the 1X2 analysis. Once you know the most likely 1X2 result, things will be much clearer for the goals market. Think that the goals are just a way of achieving that result.
Open the Biorhythm window and click on the "Odds" label, to switch to Over/Under mode and view the odds. Similarly, click on the "Odds" label above the Prediction table in the main window, to display the odds for the desired type of bet. Hover the mouse over the odds to get more details.
To easily find good matches, you can also just right-click in the prediction table and select "Order by goals". The matches will be ordered by total unrounded estimated goals. Therefore sometimes, for example, 2-0 is considered higher than 2-1.
2-0 could actually be 2.49-0.49 (total=2.98) – it actually means Over 2.5
2-1 could actually be 1.51-0.51 (total=2.02) – it actually means Under 2.5
So always look at other factors too.

Always take into account the predicted surprise scores shown at Biorhythm, not only where the indicators show that a surprise is more likely to happen (here it is absolutely mandatory) but for all matches because they show a more complete profile of the two teams. It is best having at least 2 of these 3 predicted scores (the normal and the two surprise scores) towards the desired direction. The more likely the surprise result according to your analysis, the more important the surprise scores become. Therefore the prior 1X2 analysis is part of the best practices for the goals market.
To get higher odds, if the stats suggest that it is likely to happen, you can also combine the Over 2.5 with Both Teams To Score (BTTS). See below Dinos' technique. Also, it is much simpler to get an Over 2.5 if both teams score...
In other words you should look for certain signs that may suggest that the underdog team will be able to score as long as it is quite sure that the favourite team will score. For example, a lower Confidence for the prediction of the underdog, a slightly better or upward sloping Biorhythm (home-away or overall) eventually combined with a downward sloping Biorhythm of the favourite or other recent goal statistics.
Video tutorial: How to make an Over/Under 2.5 technique

Mark's advice to get far better prices:
"My advice for the Overs market is to wait until around the 20 minute mark before going. The odds are far better plus you can also check the inplay stats. Statistically far more goals are scored in the 2nd half."

Dinos' Over 2.5 technique:
"…open Statistics window, go to goals Statistics-Finland 2. You see 3.28 average goals scored! Definitely a great league for Over 2.5. Do not just rely on this ;) Performance for the last 2 months will show you many interesting things! Best Choice-Home wins. Usually where Top Hosts and Weakest Guests are involved we have a match good for Over 2.5. Also, generally, if you have a HIGH scoring league and low success on Home wins, usually both teams will score… "

Dinos' Both Teams To Score and Over 2.5 technique:
"...Go to Statistics =>Teams Statistics =>Btts:Yes=>Away Btts:Yes
This is an example from yesterday's England Championship
As you can see, Norwich, Cardiff, Burton and Bristol City have the higher percentage for Away Btts.
This info is a good way to start your analysis for BTTS and Over 2.5… "

That's all! You are just a few steps away of a fascinating challenge. Good luck!

D.
Method "D": Top Teams, High Odds, Top Wins! In just three steps…
How to turn the 1X or X2 predictions into simple Home or Away win. The benefit? Higher odds while securing a high hit rate.
"Hello everybody,

Just a small tip in order to get the best out of the software!

Run Performance (e.g. for the last month) and then use Best Choice! to search for leagues with high success rates for 1X or X2 predictions.
Select the desired date and press Prediction. Look only for 1X or X2 in the previously selected leagues, according to the first step. To easily retrieve the X2 predictions, order them by "2". Similarly, order by "1" for 1X predictions.
Take a look at the league's Standings: check Dynamic and press Away for X2 or Home for 1X. Usually, the top teams (places 1-3) according to these Standings win and the odds for Home / Away win are quite good!
That is, if the prediction is X2 and the Away team is a top team according to the Away standings, it is very likely to win the match. Similarly, if the prediction is 1X and the Home team is a top team according to the Home standings, it is very likely to win the match.

"Top teams" usually means places 1-3. Even teams on the 4th place could be good if the standings are tight at the top and they have a high percentage of home wins (for 1X) or away wins (for X2).

Tip: Carefully study the results in the selected leagues to see if they follow the desired pattern, as explained above.

Method "D" video tutorial
Full instructions
Simple steps

In brief:
1. High success.
2. Press Dynamic and Away.
3. Usually the first 3 teams win!

Examples:
Dynamic Standings
Sweden League 2
Sweden League 2

Update:
The most important is to have a high hit rate in X2 or 1X prediction! Let's say about 80% for the last 2 months (use Best Choice!). This is amazing because you have to select between 2 probable results! If the team is placed on the 4th – 8th places a Draw is very likely! Taking into account the stats from the Fast Statistics box and all the information from Biorhythm, a Draw result becomes easier to be predicted!

Weekend is coming! Get prepared……
Dinos"
E.
Won by Split Decision! High Odds, Great Results!
A highly rewarding technique from Dinos, inspired by aerodinamics and called C o G, with high odds and very high success rates, based on Manual Fine tuning.
"If you want to fly high, always keep an eye on the Center of Gravity!"

"Hello everybody,

C o G. The name of the method is based on aerodynamics!!!!! Aerodynamics? We are talking about football!!!!

Well, examples are the best way for me to understand things!

As we all know, high odds are what every punter needs! The benefits? The most important for me is that when using systems (see system bets), you don't have to win in all matches to make profit!


Very often we see this kind of odds: 2.60-3.20-2.80.
Can we have success? My answer is YES!

Open GoWin! The Football Forecaster Deluxe Edition.
Set the date you are interested for.
Slide both Fine Tune cursors (Manual and Contrast) at minimum (-10)
Check the Confidence option.
Press Prediction.
Order by 'X'. You will see many X predictions.
Open Biorhythm individually for each "X" match. You will find here several stats. Take a look at the Overall – Overall and Home – Away rankings of the two teams in League Table, conveniently shown here.
The ideal scenario we are looking for is when the Overall rankings are very close BUT the difference between Home and Away is large.

In this case, the stronger team according to Home – Away rankings wins!

This is why we HAVE to know the balance point! C o G (Center of Gravity) can determine everything in aviation world and not only!!!!!


P.S
I have verified the method! It works great and targets like 2.40, 2.60, 2.90 or 4.20 are a piece of cake.........

Good luck!
Dinos"


Tips:
The higher the percentage for X the less difference of strength is needed.
Where the strength of the teams is equal a Home win is very probable.
If you use double chance bets 1X or X2 the success rate is close to 100%. The odds will still be good.
Where the decision isn't so clear, discard it or choose something else. You can go to the goal market - a good type of bet is "Both teams to score and Over 2.5". Of course you have to study all the stats before making a decision! I found it happens pretty often and the odds are from 2.30 to 3.00!!!
Run Performance to verify how effective this method is in a specific league you want to bet on. You will be amazed by what you will find in the HEART of the software…
Our notes:
The main and simple decision criterion is Overall-Overall and Home – Away rankings. The target is to find matches where Overall rankings are very close BUT the difference between Home and Away is large!
Additional decision criteria, in order of importance, are: 1X2 Prediction percentages and Confidence values (together) and Biorhythm. The more criteria towards the same direction the better. Practising on past results is one of the most effective ways to better understand the influence of each factor. See also the NON-CONFLICTING FACTORS strategy.
For complete compatibility with NON-CONFLICTING FACTORS strategy, we recommend using the default settings to calculate the predictions and Confidence values and only then to change the contrast and Manual tune to -10. This way, the predictions will be updated in real time as required by Dinos' method but the Confidence values will remain according to the default settings as required by non-conflicting factors – we know them better with default settings then with custom settings.
There is also a big advantage of working with well balanced games: the more balanced the game is, the less interesting for fixing it is. Therefore we have the great benefit of minimising this risk as well. It will be just the two teams and our skills.
Examples:

Cowdenbeath-Raith Rovers from Scottish Championship:
Overall – Overall: 8 vs. 6
Home – Away: 10 vs. 4
In this match the 8th plays against the 6th BUT ACTUALLY it is the 10th against the 4th. Result 2 @ 2.20. Won by split decision!

Getafe - Rayo Vallecano from Spanish Primera
Overall – Overall: 14 vs. 11
Home – Away: 14 vs. 8
In this match the 14th plays against 11th BUT ACTUALLY it is the 14th against the 8th. Result 2 @ 3.20. Won by split decision!

F.

Won by Split Decision! Non-Conflicting Factors.


Improved Results. High Odds! Advanced Analysis.
The technique can be applied to X and 1X2 matches, to Dinos' Center of Gravity method as well as to any other match as a general guideline for advanced data analysis.
The decision factors are in this order of importance:

Confidence and Prediction percentages. The higher the Confidences for both teams (in the 65-95 interval with default settings, with slight flexibility) the safer and more important the Prediction percentages are. Lower Confidences for one or both teams can weaken or even overturn the prediction… Also Dinos' Red/Blue rules can be successfully applied.
Home-Away and Overall rankings differences.
Biorhythm profiles, levels and differences, if it is ascending or descending, cyclical repetitions, both Home – Away and Overall.
Wins-Draws-Losses percentages.
In the ideal situation all must point towards the same direction. If not possible, the more the better:
Where the direction and difference are clear choose 1 or 2. Just forget about checking the odds. All will be high.
Where the direction is noticeable but the difference between the two teams is not big go with 1X or X2 depending on the observed trend but only if the odds are at a good level.
And if it's not clear or the potential profit is not good enough discard the match with no mercy
Weigh the differences, feel the influences
And remember! It's all about GoWin! and your advanced data interpretation. The more experience you get with this method, the better the results will be. Train yourself on the past results and then, when you feel you are ready, go into battle!

The NON-CONFLICTING FACTORS strategy
Improved results: split decisions, advanced analysis!

Good luck!
G.

The Power of Manual Tuning
A new confirmed method by Dinos
An easy way of finding matches... An easy way of making decisions... Faster, SAFER!!!
"I have been doing this for the past few days and the results are much much better than I thought before I started!!! There is only one condition! The Confidence values must be EXTREMELY HIGH! From 85 to 100!

This is what I did last weekend...
Set the prediction date for the weekend
Move the contrast cursor to the left (more doubles and triples) until it reaches the minimum (-10)
Press Prediction and wait
There will be many 1X2 outcomes BUT there are also many singles, 1 and 2: right-click to sort the matches by "1" or "2" to easily find them.
Go to these singles, 1 or 2, and check the Biorhythm and Face-to-Face analysis to confirm the prediction once again
Check all the stats provided by GoWin! (Dynamic Standings for Home or Guests, Goals +, Goals -)
For the upcoming weekend there will be 159 of "1" and 14 of "2"

Default settings or manual fine tuning, it does not matter.....
GoWin! is doing just fine.....

Good luck and have a nice weekend!

Dinos"
Examples and a clarification in answer to Megwa's question:

Hello Megwa,

The odds are what every punter is searching for!!! They must be around 2.
Examples are the best way to make things clear... So here are some very recent matches:

Germany
Bundesliga:
Schalke-Mainz @ 1.95
Ausburg-Hamburger @ 1.85
2. Bundesliga:
Braunscheig-Nurnberg @ 2.05

England
League 1:
Milton Keynes-Colchester @ 1.65
Swindon-Fleetwood @ 1.85
League 2:
Hartlepool-Wycombe @ 2.10 *
Conference:
Macclesfield-Torquay @ 3.15

France
Ligue 1:
Reims-Bastia @ 2.20

All these matches have the same 3 characteristics:
Prediction is 1 and remains 1 at Contrast -10.
Home team is much stronger (e.g. according to Home - Away rankings), scores much more goals and gets less goals than the away team.
Confidence values with the default settings are over 65 (Safe) and over 85 with manual fine tuning.
P.S. *For Hartlepool - Wycombe the prediction is 2 - the logic is similar

Our comment
This technique greatly reduces the risk of fixed matches as you will work with very high Confidence values, which means teams with constant results and less prone to surprise results.

H.
Under 3.5 | As simple as effective!
An incredibly simple technique proposed by one of our users, that produces awesome results. It provides amazingly high rates of success being well suited to accumulators:
Dear GoWin! Users,

First of all, I have to tell you that I am so happy with GoWin! and I have earned a lot. For me this is one of the best programme ever tried.

Also special thanks to the creators of this software and to Dinos who improved and discovered many things inside of it.

Now, I will explain what my friend and I have discovered. This way I get a high rate of winning tips.

The most important indicator for this method is CONFIDENCE!!!! It must be:

* LESS than 40 for the HOME team
* GREATER than 60 for the AWAY team.
Like: 16-80, 20-77, 30-90 and so on...

In this case we bet for UNDER 3.5 GOALS....

Until now I have never lost with my Under 3.5 bets! The Confidence is the most important for this. But also you can check other things – see our Tips & Tricks below.

Here are the some examples of matches successfully selected:

Tyrnavos - Pierikos - Confidence: 33-67 Final Score: 0-0
Acharnaikos - AOT Alimos 33-67 0-0
Borussia Dortmund - Hoffeneim 17-67 1-0
Kabylie Tizi Ouzou - Arba 20-67 2-1
Orlando Pirates - Maritzburg United 25-67 1-2
RKC Waalwijk - Maastricht 29-71 0-1
Levante - Getafe 33-67 1-1
Sporting Braga II - Olhanense 38-62 2-0
Grasshoppers - Young Boys Bern: 38-62 0-1
Uniao Madeira - Oliveirense 38-62 0-0
Rizespor - Karabukspor 40-80 0-3
Messina - Benevento 25-75 1-1
Hallescher FC - Arminia Bielefeld 20-78
Pretoria - Mamelodi Sundowns 33-86
Crotone - Pro Vercelli 44-78*

and much more examples...

We hope this will help you a lot!
Good luck guys!


Our Tips & Tricks:
Avoid the most unbalanced games according to the 1X2 percentages (check for both home wins and away wins).
Also check the scored and conceded goals by the two teams in the last 4-5 matches and remove the matches between teams with the most Over 3.5 results lately.
The larger the difference between the two values, the better: e.g. 20-80 is better than 40-60. The limits could be slightly flexible.*
The lower and the more balanced the Biorhythm (Home Away and Overall) of the two teams the better.
Using Best Choice! and checking the league stats (Statistics window) to find the best leagues for Under 3.5 (i.e. low scoring leagues) as well as checking the goals profile of the two teams will also surely help.
Our comment:
The Under 3.5 method is much less affected by external factors and thus the success is much safer. Therefore it also has a big additional advantage compared to other methods such as 1X2.
Generally speaking, strictly following the two rules the hit rate is already very high, somewhere around 20-21 out of 25 each weekend. Just avoid the most unbalanced games or follow the above advice and the hit rate can easily go up around 22 out of 25 or similar!!!
The question is how to optimally manage these hit rates?


With singles the expected results should definitely be positive. The drawback is that the margin is not very high and individually betting on each game is quite a meticulous method. So this method is neither handy nor optimal.
With an accumulator with around 10 matches you have good chances to be successful.
Or, better, you can spread the bets over two or several accumulators and your chances to be successful will increase. If you make 2 even accumulators, with 9 or 10 matches the odds will be around 10. You can also make 2 uneven accumulators e.g. with 16 and 3 matches. If you win the smaller accumulator the money will be fully recovered. With just a little bit of luck, you can win the bigger one – the return will be 50x times the stake!!!
I.
Both Teams to Score
What I have noticed after running Performance is that in matches that qualify for my first rule (If 1 and
blue

/

red

then X or X2) we can also choose with a high rate of success "Both teams to score".

Explanation:

The normal prediction says that it will be a Home win, so at least a goal will be scored!
The low Confidence value of the Away team means that it is very possible for this team to have a better or much better performance than the low percentage awarded by the normal prediction. Therefore, a goal is very possible to be scored by this team as well! In other words, both teams to score!

In conclusion, we can get more than it seems at the first sight, especially where there are low odds for the Hosts...

Dinos

J.
One match, three ways to win
An important factor in life is to be flexible...

Here are three matches with similar characteristics:

From Sweden and Norway
______________________
MALMO - GOTEBORG
Prediction 45.95 - 31.32 - 22.7
Confidence 87.5 - 50
Odds 1.70 - 3.60 - 4.80
Tip 1
Probable score 3-0
Actual score 2-2
______________________

______________________
MOLDE - STABAEK
Prediction 65.57 - 17.92 - 16.51
Confidence 88.89 - 37.5
Odds 1.23 - 6.90 - 9.50
Tip 1
Probable score 3-1
Actual score 2-2
______________________

3 successful ways:

In accordance with Confidence values and my first rule (If 1 and blue/red then X)
In accordance with Confidence values and with my "Both teams to score" method (never forget the Best Choice section!)
Taking into account the most probable score provided by the default settings, betting on Over 2.5
The third match also comes from Norway:
_____________________
TROMSO - TROMSDALEN
Prediction 58.65 - 22 - 19.33
Confidence 66.67 - 55.56
Odds 1.23 - 6.00 - 9.50
Tip 1
Probable score 3-1
Actual score 5-1
______________________

Here 1X2, "Both teams to score" and Over 2.5 are all winners!

Some people pay no attention to matches with low odds! My conclusion is that in these matches we can get at least one winning selection with quite HIGH odds!!! This way, the stake remains low, while the probabilities for profit are very high…

Dinos
K.
Learn from Winners!
5 matches analysed by Dinos: How to achieve amazing results with the help of GoWin!, even better than the default results
Two matches from Finland:

1. Discrepancy between bookmaker's odds and GoWin!'s probabilities

HJK HELSINKI - LAHTI FC
Prediction: 44.82 - 31.96 - 23.22
Confidence values: 55.56 - 57.14
The odds: 1.47 - 4.00 - 7.00

A very short analysis of the data:
Usually where there is such a low odd as the 1.47 normally, we also expect to have extremely high percentages for this team to win. But, in this case we have only 44.82. This is the first sign that something 'interesting' is going to happen! The Confidence values are 55.56 and 57.14 for each team. Even these values behave like low values. This is the second sign that a surprise result may occur.
Final result is X.

2. A safe bet with good odds

INTER TURKU - TPS
Prediction: 75.56 - 12.34 - 12.10
Confidence values: 71 - 88
The odds: 1.70 - 3.55 - 5.45

This is one match with a safe bet. High probabilities and good return.
Home win, as it was predicted by the default settings!

The next 2 matches come from USA.

3. Low Confidence - bet on surprise result

SAN JOSE EARTHQUAKES - CHIVAS USA

Prediction: 44.41 - 32.31 - 23.28
Confidence values: 37.5 - 42.86
The odds: 1.75 - 3.35 - 4.50

A very short analysis of the data:
The normal prediction for this match is 1.
The Confidence values for both teams are very low which means that a surprise result may occur!
Final result is 2.

4. Predictions and Biorhythm correspondence

CHICAGO FIRE - TORONTO FC

Prediction: 24.47 - 38.84 - 36.69
Confidence values: 71.43 - 50
The odds: 1.95 - 3.30 - 3.60

A very short analysis of the data:
The prediction for this match was X2.
Let's take a closer look at the match!!!!
Toronto played with 10 players due to a red card at the 29th minute!!!!
However, Toronto scored a goal at the 43rd minute!!!
If we take a look at the Biorhythm and face to face analysis section a 2 result would be the most probable result!!!
Final score is X.

The last match comes from Iceland:

5. Sometimes the hazard has its say

KEFLAVIK - IBV
Prediction: 51.75 - 26.96 - 21.29
Confidence values: 83.33 - 80
The odds: 1.85 - 3.40 - 3.90

A very short analysis of the data:
Prediction for this match is 1.
Taking into account the Biorhythm and face to face analysis section, we see that a draw match is very likely to occur!!!
Well, in the 93rd minute the score turned into 1-2
For me it was the only match I lost……..

This is the Power of GoWin!!!!

Dinos

We had very good matches last night, predictions were AWESOME!!!!!

L.
5 Factors for successful selection
Kingsley asks: "In predicted matches, what's normally considered as criteria for success of that prediction?"
Hello Kingsley,

As you can see, with GoWin! the default hit rates are already at a high level. So there's no doubt that the most important factor you can rely on and that already provides very high success rates is the Prediction itself.

So the starting point is very high. But, with proper analysis, you can achieve even better results.

GoWin! provides several indicators that can be used as criteria for success of the prediction and that will definitely help you make the right choice out of hundreds of matches:

Prediction itself
Best Choice to find the leagues that constantly provide the highest performance for the desired type of bet
Biorhythm
Confidence levels
Statistics data from Statistics window

A properly conducted analysis based on these factors will bring you important improvements.

Cheers!
Robert

M.
Understanding Confidence values
The Confidence values add power and support the high accuracy of GoWin!. They are one of the little yet important wheels of the mechanism.
The most important thing to know is that it is the confidence of the prediction not of the team. A choppy or whipsaw unstable history of results will automatically be reflected in a low Confidence value. Higher Confidences mean safer prediction while lower levels are a suggestion of possible surprise result.

While the 1X2 percentages show the normal power of the two teams calculated by GoWin! and give the most normal result, the Confidence values are not based on the power of the teams but rather on many other adjacent factors and show the probability to play at their calculated normal level of power.

So they do not reflect the power of the team, and consequently the team with the highest Confidence should be the pick, but the trust that you should have in a team that they will play with the predicted power.


High Confidence means that the team is expected to play as usual, at their normal power according to the prediction, which is thus safer.
Low Confidence means that the team is expected NOT to play as usual, at their normal power. In other words:

for the favourite to win team - that it is expected to play worse

for the underdog team - that it is expected to play better

Having this in mind you can easily start interpreting the data.

Normally, as a general rule in Statistics says, the extreme values too close to 0 or 100 should be treated with caution. 100% for example means a certainty but we still have a prediction. It could come from insufficient data or uneven data distribution or other distorting factor but it also could reflect the reality.

Our user Dinos applied this theory, studied statistically many possible scenarios and found the most successful rules for identifying surprise results (see the Red/Blue rules from section B).

For example, in the case of Dinos' favourite and most successful rule:
If X2 and red/blue then 1

Low Confidence for the underdog team should be interpreted that it is very likely to play better than usual while, relatively high Confidence for the favourite team means that, most likely, it will play as usual. And hence the slight advantage of the underdog team.

It will surely be more than enough to just rely on the normal prediction. But analysing the Confidence values can bring important improvements and can help identify the surprise results more effectively. For instance, Dinos' favourite rule has a success rate in detecting surprise results of about 40% (with further study you can reach even 50-60%) with odds usually above 3 or 4 or even higher.


Notes:

The prediction works very well in most cases without taking into account the Confidences. But they are important because provide an odds independent selection way and therefore you can get much safer higher odds. Also you can get around 10% higher hit rate without the need to lower the odds.
The safest values are in the 65-95 interval while a low Confidence should be in the 20-49 interval (with default settings and slight flexibility).
The Confidence is directly related to 1X2 (home win / draw / away win) prediction and only indirectly to score prediction.
M1.
100% Confidence. What does it mean?
As already explained above, 100% Confidence can have more meanings and is not a common thing in the prediction and probabilities field. We let the raw values unchanged as they come out, because this way they are much more meaningful.

100 usually means not enough fresh data or irregular data distribution. This usually happens at the beginnig of the season. In this case it is better to discard the game.
If it's not the start of the season then it can also mean a team with a very constant behaviour. That would be good but up to a point. If the streak is perfectly constant and too long then it can't last infinitely and we should expect a change at some point. This is not the best situation we are looking for because, when a team has a very long streak of wins, the actual probability of surprise increases and the odds for normal result decrease. If the surprise probabilty increases the the normal result probability decreases. That means that we'll get lower odds for a less probable event. Because everybody expect that that team will win again but this streak must have an end at some point. Therefore we will not have a value bet.
In certain cases it may also mean a good high confidence.
Notes:

If you can analyse the game this way you can consider the match, otherwise it is better to just discard it and choose a better and clearer one.
Do not remain stuck with one game, compare it with the others and choose the most clear an the best ones only.
N.
High odds is my way
… and this should be the way, we would say. Chris wanted to share with us his way of using GoWin!
"I have been a long-term user of GoWin!. Back in the beginnings, I was very pleased when I saw how far I can go with it. But with the newest improvements I must say I am really amazed.

This is how I do:

Basically, I follow your guidelines and I use the Best Choice! to get the leagues ranked by hit rates. Then, from the best leagues and with an eye on the Confidence values I pick my favourites.

But my goal is not to necessarily find the winner of the game. When I analyse a match, I look for a type of bet that could provide a good return, it could be 1X2, Under, Over, Both teams to score or anything else. Also, I look for surprise results, based on Confidence values and usually in leagues with lower hit rates. Also, Dinos' advices and observations help a lot.

I found this way much more successful and much more rewarding. Instead of selecting 5 or 10 events with low odds, it's far better to have only 2-3 events with relatively high odds.

This is my way!
Chris, UK"

O.
The best method:
Singles or Accumulators? Try Systems…
There are many ways of making successful selections with GoWin! But what would be the best way to put them into practice?
" It mostly depends on what you want.

Single bets: this is the steadiest and the safest way. The Pro method. Depend less on luck and more on your skils. There are more than 30 leagues at the top of Best Choice! with very good results without any special selection. There is also about the same number of leagues at the bottom of Best Choice! where the surprise result is the choice. So the starting point is very high.

Accumulators (parlays): it may bring higher profit but it may also take some time and several attempts. When you combine many games, the luck will play its role.

Systems: one of my favourites too. A good method. It is a high-end yet simple to understand combination of accumulators. The big advantage of a system is that you can win even if not all your picks are correct! You can find many preset options such as: 2 of 3, 3 of 4, 3 of 5, 4 of 5 and so on. They can have the safety of singles and the profit of accumulators. The more correct picks you have, the higher the winnings will be.

I personally use at the same time all three methods: the basis - singles or smaller systems or parlays, for steadier results that will also fund my next games and, ocassionally, bigger accumulators or systems for potentially even bigger profit.

Regarding small accumulators or systems, what I usually do is combining a few (2-4) events with good odds i.e. around 2 (1/1) or a bit higher. It may not work every time but when it works the result is consistent. And that's the essence: the long-term results.

Robert"

P.
The PERFECT DRAW
Everything happens for a reason! The more we know, the better we are.
Why Niort – Dijon is the perfect example of a Drawn match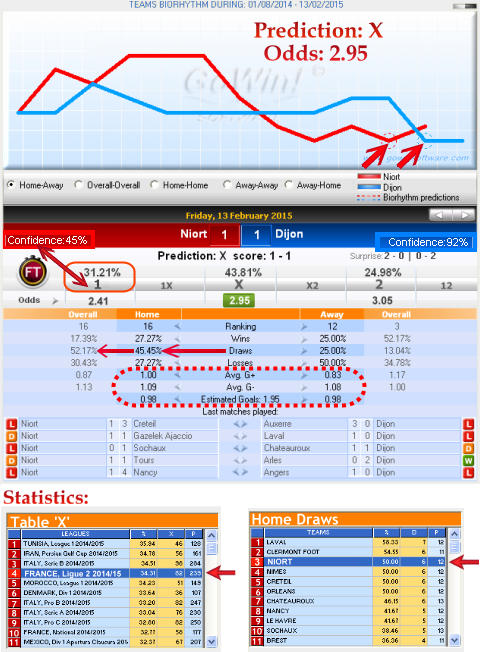 Match analysis:
The prediction shows a clear X.
The 45% default Confidence of Niort (with a slight advantage according to the prediction percentages) suggests that Niort is very likely to play worse than expected. Also, Dijon has a slight advantage according to the rankings. Overall, well-balanced.
Niort has a high percentage of Draw matches both Home and Overall: 52%!!! and 45% of their matches ended in a draw. This is a very good indicator that shows the general tendency to drawn matches of a team.
The well-balanced and very low levels of Biorhythms both home – away and overall is another good sign.
The low and balanced average number of scored and conceded goals of the two teams.

League analysis:
France Ligue 2 has one of the highest percentages of Draws out of all leagues and Niort has one of the highest percentages of Draws out of all teams from Ligue 2 - see the Statistics window.
France Ligue 2 is very well ranked in the Best Choice! top for betting on Draw, with 57% default success rate for the last month.

Rewards:
And last but not least, the high odds for Draw bets, here somewhere around 2.95 but usually even higher which make them profitable with a rate of success of as low as 30-35%.
Betting on Draws has always been a tricky task. But, when you have so many reasons to do it, just do it! You will be successful!

R.
Detecting the most likely drawn matches
Five ways to improve your chances in betting on draws and not only
Betting on drawn matches has always been a tricky business. While the profit could be more consistent, the required skills are high. GoWin! has good skills and can help.

The steps are simple:


Go where there is plenty of prey: select the leagues and the teams with frequent draws (Statistics window).
Go where hunting is the easiest: select the competitions with good performance on X matches (use Performance and Best Choice features).
Adjust your weapon: finely tune the prediction engine to get the most accurate results possible.
Set your target accordingly: to matches with the highest probability for X calculated by the prediction engine and with similar Biorhythm levels.
It is best to look for matches between low scoring teams that are not in great form that are unable to score and win
We know that a good hunter will never give up on his good instinct. So we cannot ask you this. You chose GoWin! so your instinct is superior. You now have the best weapon and the knowledge too.
Similar steps should be performed for any type of "game": Under, Over, No score, No score draws, home win, away win and so on…

S.
Confidence
Finding the matches that might end in a surprise result
Why do we need to know the most likely surprise results?
1. Avoiding losing a bet which apparently is very safe.
2. Betting with very good chances, at very high odds.

The sample is from the latest round of the Italian Serie C1B. Without fine tuning and without any other statistics or knowledge needed, just making use of this fantastic feature, the profit is almost 2 times the stake:

Four surprise results signaled by the programme (very low Confidence: 33, 33, 28 and 33):
BENEVENTO - PISA > 1 - Won
CARRARESE - NOCERINA > 1 - Won
GUBBIO - ANDRIA > X2 - Won
PRATO - PERUGIA > X2 - Lost

Average odds: at least 2.8; Stake £10 on each match; Return=£84

One match abandoned: PAGANESE - LATINA > stake returned

And three matches with low possibility of surprise (higher values of Confidence):
AVELLINO - CATANZARO > 1 - Won
SORRENTO - FROSINONE > 2 - Lost
VIAREGGIO - BARLETTA > 1 - Won

Average odds: 1.8 Stake £10 on each match; Return =£36

Total stake £70 Total Return: £120
Total Profit: minimum £50

Just received this from Mark, who has already put into practice successfully the technique described in our previous post, on Premier League Boxing Day matches:

" According to Confidence, I have selected four matches unlikely to end in a surprise result:

EVERTON-WIGAN 2-1 (Conf. 62.5 and 75) >> 1 @ 1.59-Won
MANCHESTER UNITED - NEWCASTLE 4-3 (75-62.5) >> 1 @ 1.34 - Won
ASTON VILLA - TOTTENHAM 0-4 (75-50) >> X2 @ 1.51 - Won
FULHAM - SOUTHAMPTON 1-1 (62.5-85.7) >> 1 @ 1.95 - Lost

…and five matches very likely to end in a surprise result:

STOKE - LIVERPOOL 3-1 (62.5-37.5) >> 2 @ 3.34 Lost
SUNDERLAND - MANCHESTER CITY 1-0 (37.5-62.5) >> 1 @ 6.6 - Won
READING - SWANSEA 0-0 (50-37.5) >> 1X @ 1.64 - Won
QPR - WBA 1-2 (37.5-50) >> 1 @ 2.42 - Lost
NORWICH - CHELSEA 0-1 (50-25) >> 2 @ 1.76 - Won

One match was postponed:
ARSENAL LONDON - WEST HAM UNITED

Stake was £10 on each match
Total Stake: £90
Total Return:£144.4 (£15.9+£13.4+£15.1+£66+£16.4+£17.6)
My total Profit: £54.4 "

T.
Performance feature
Choosing the leagues that provide the best performance
We all are different and so our betting methods are. The programme is based on a large database comprising more than 100 competitions. Along with the accuracy of the prediction engine, this great versatility is one of the keys to success. That means that there will always be competitions fit to your system and where you can find many good opportunities.

As always in life, we like and need to take advantage of the best opportunities and so should be in betting as well: it's always advisable to bet on competitions that ensure the best chances to win.

With GoWin!, finding the best leagues is a simple challenge. Just use its unique feature called Performance. Select the time interval, select the league and press the Performance button. Then take a look at the prediction table as well as at the data from the Fast Statistics box and compare the leagues.

The prediction engine provides high performance under various aspects so that for almost any system there are several competitions with potential to bring consistent long term profit: from the simplest such as 1X2, Under/Over, Correct Score to the most complicated systems. The reverse is also true: on almost every competition there is at least one system for which the default performance is more than enough to ensure long term profit.


U.
Correct Score Dutching Technique
Some time ago, we received this technique from our user Paul and thought it would be useful to share it with you
" For me, the issue is finding a low-scoring football league that has fairly predictable results, e.g., the English Premier League is such a league.

I have found that as long as I:


Avoid the top rated teams (Manchester United, Manchester City, Arsenal, Chelsea).
Avoid games where an away win is expected.
I can dutch the following scores:

0-0, 0-1, 1-0, 2-1, 1-2, 1-1, 2-0

I did this on Saturday, and used £100 GBP per correct-score dutching bet, and made about £40 - £45 on each of the four matches I bet on.

I have a very good advantage over other punters because I have GoWin! and this enables me to put into practice this strategy with much success."


Paul is using this system taking advantage of the high accuracy of the correct score and Over/Under predictions of GoWin! software as well as of the well-targeted statistics the program provides.

Identifying such leagues is very fast, simple and precise with GoWin!:

Open the Statistics window and take a look at the Leagues>Goals Statistics table
Run Performance on the selected leagues and choose the best ones according to the Fast Statistics section.
V.
What's Better, Accumulators or Single Bets?
The accumulators or accas are fascinating. Let's understand how they work and when they're good.
Trixie, Yankee, Canadian, Super Yankee, Heinz, Super Heinz, Goliath, full cover bets and accumulators in general, with or without attractive names, are OK as long as they are used as an exception.

The math behind bookmaking says that single bets are the most effective form of betting and should be the rule.
Like any seller, the bookies have a margin of profit. In big leagues it is about 4%, in lower level leagues it is about 9%.

4% margin of profit means a probability of happening for that event of 104%. But in real life there's no probability higher than 100%...

In simpler words, this means that the bookies sell us a product that costs £100 for £104.

If we combine two events, the probability will be 104%*104% = 108.16%.

What did we get? We now buy a product that costs £100 for £108.

What happens if we combine 10 events? 104% to the power of 10! We pay £148 for a product that costs £100!

Have you ever got a bonus when playing an accumulator?
That's just a confirmation of this fact. Because the price multiplies so fast, for example to £129.5 with just 3 matches in lower leagues, they can even afford to give you a small incentive discount to make it more attractive, secure a higher margin of profit and conceal the actual math behind it. You just got the price raised from £100 to £129.5 and then discounted to £125!

In conclusion, the accumulators are good to try our luck and should be the exception, not the rule.

There's no need to understand the math and calculation behind this, just keep in mind the conclusion and ally with GoWin!, the only tool that has been genuinely helping punters smash the bookies, for almost two decades now.


Wikipedia: Mathematics of bookmaking
Section "Overround on multiple bets". For easier understanding, the overrorund is the bookies' margin of profit.